NYC Boudoir Studio | New Location open for Business!!
Today is the BIG day!! I am SO excited to announce that our new LIC Boudoir Studio is officially open for business! Since I announced the studio, we have had so many wonderful notes and emails from our amazing clients and friends sharing in our excitement. It means so much to me – so thank you all!
A few days ago I texted Diana at 6:45 am and said – "Hey, how about a shoot today?" I wanted to take the new space for a test drive before I brought any clients in of course. I think Diana replied with something like "Shoot – does that mean I have to shave my legs?" Being the team player that she is….she broke out the razor, threw some makeup on and let me have my fun. Thanks D!!
What I love about the setup here that I didn't have in my other studio is that the bed is on wheels! That means I can move it around according to the look I want and to maximize the gorgeous light.
One of the things that really attracted me to this space is the huge window and soft beautiful light that comes through it. My first purchase was blinds, because I knew that I could create some fun light patterns with them.
I bought a whole bunch of different fabrics to play with. I love the softness of these shades I bought. They cost all of $5.00!! But they look rich, don't they?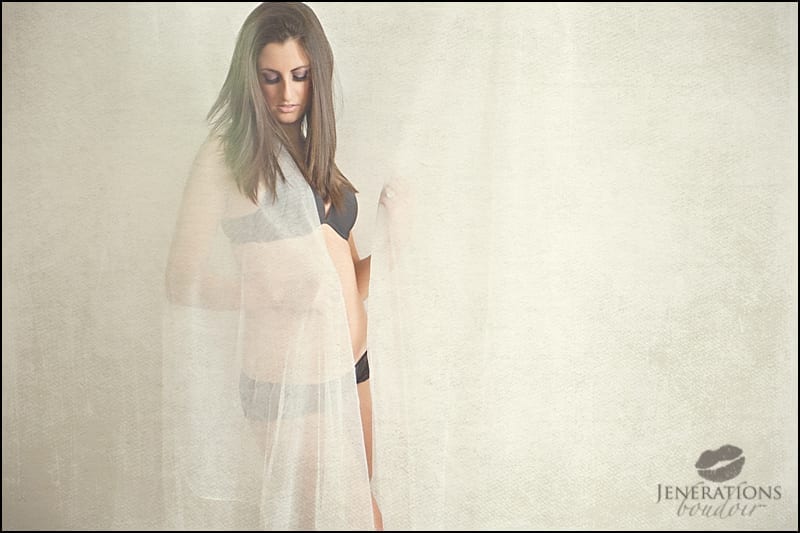 And of course the brick wall. I saw it, loved it and knew it had to be mine!

Last but not least – a fun little outfit. I wanted to show that boudoir photos don't always have to be about wearing next to nothing. It can easily be about sexy casual.
I had so much fun with Diana. I can't wait to explore the space even more and see what comes out of it. Ok…off to shoot my first client there!!
Have a Sexy Day Everyone!!
xoxo,
Jen